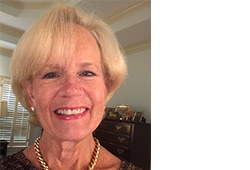 There are, of course, many reasons to give to Wake Forest in general and to designate a planned gift in particular. Each donor probably has a unique story related in part to perpetuating impact.
Mine speaks to my gratitude for parents and school, together supporting me as one of eight women to receive undergraduate business degrees in 1974. The total is of course low in today's terms. Ours, we learned, was the first class to graduate women in business, and thus the largest cohort of its kind in Wake Forest history to that point.
We arrived not knowing precisely what our future would hold, but we did know doors would be opened rather than closed. We faced unique challenges. They included some salary discrepancies; off-color jokes that moderated over time; and the funniest to me: a women's dress code allowing pant suits only if navy, gray or maroon.
In fact, Wake Forest had afforded us our success factors: minds prepared to see and solve challenges with balance and integrity. The year after we graduated, 20 women received undergraduate business degrees from Wake Forest. If we were trendsetters, there is strength in that collegiality. In March of 2017, five of us across the years connected at Wake Women's Weekend, and we reconnected this past March in a Business School session, equipping experienced business professionals to mentor and coach Wake Forest students.
So for me, a planned gift is an honor - to thank family and our school for opportunity afforded. Now, as on the day we entered campus, Wake Forest continues to amaze and impress me. It becomes more endearing as the years pass. I believe others share these sentiments. Lending talents to the classroom or in expression of gratitude via planned giving, I trust each of us is finding a way to impact our Wake Forest.