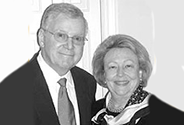 Charles H. Duckett '54, MD '57 and his wife Carolyn have established a Wake Forest scholarship to help deserving North Carolina undergraduates.

"Diversity is good, but the percentage of Wake Forest students from North Carolina has dropped tremendously in the last 20 years," they explained. "We hope they will remain able and willing to come to the University."

"We had planned an estate gift, but the Pension Protection Act of 2006 provided a good way to fund the scholarship now and, in addition, bypass taxes," Dr. Duckett said.

They began to fund the Charles H. and Carolyn G. Duckett Scholarship Fund in 2005, and when the new legislation was passed they saw this as an opportunity to enjoy getting to know recipients of a fully funded scholarship during their lifetimes. Those aged 70½ and over can make outright gifts from their IRAs directly to Wake Forest and exclude their gifts from gross income.

Dr. Duckett, a native of Canton, N.C., was the founding director of the family practice residency training program at what is now Baptist Medical Center. "It was stimulating and very worthwhile to work with students and residents and then watch their practices spread across the state," said Dr. Duckett, also Professor Emeritus of Family Medicine at East Carolina University. He continues on a volunteer basis to participate in teaching a Doctor-Patient Relationship course at Wake Forest University School of Medicine.

The Duckett children, two of whom attended Wake Forest, have also contributed to the scholarship fund. "It's a wonderful feeling to know we're supporting something as wonderful as Wake Forest and that we were afforded this opportunity during our lifetimes."