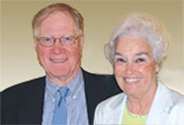 John Wagster ('57) was raised in a small southern town—Columbia, Tenn., the self-proclaimed "Mule Capital of the World."

He was determined to pay for his education at Wake Forest and juggled classes with working at Bob's College Inn and as a janitor in Little Dormitory on the old campus. After his sophomore year, he started dating another Columbia native, Lynda Ward, who was earning the first of three degrees at Vanderbilt University.

It was a busy time, yet a rewarding one. "Wake Forest made a big difference in my life, values, experiences, and friends," Wagster says.

After his class was the first to graduate on the new Wake Forest campus, Wagster went on to earn a bachelor of divinity degree from Yale University in 1960 and a J.D. from Vanderbilt University in 1970. He practiced civil litigation and insurance and commercial law in Nashville before retiring this year.

He and Lynda, his wife of 50 years, have two children (one a Wake Forest graduate) and five grandchildren (two current Wake Forest students).

He has shown his dedication to Wake Forest by serving on the College Alumni Council, chairing the Board of Visitors, and co-chairing the 50th reunion of his 1957 class. He also supports the College Fund and the Deacon Club.

The Wagsters want to make it possible for deserving students to have a Wake Forest education. With the help of John's siblings, they have established the John D. and Bertha W. Wagster Scholarship in the Divinity School in memory of his parents.

They have also established the Wagster-Ward Scholarship for undergraduates in memory of both of their parents. "This is need-based financial aid for students from rural areas in the South," John Wagster says. "Having come from a small town, Lynda and I know how challenging it can be to find the resources to pay for college."

They have included Wake Forest in their estate plans, an easy way to ensure future funding for the scholarships. "I think it's important to 'pay back' Wake Forest for the big difference it has made in my life," Wagster says.