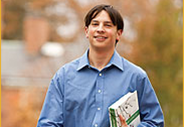 "It pretty much blindsided me," says sophomore Bradley Howard ('12) of his first visit to the Wake Forest campus. "Everyone smiled at you as you walked by. The school was small, personable, and I just fell in love with it." It took him by such surprise because Bradley believed he was bound for a different university and never expected Wake Forest to be a part of his future.

He was being "put through the wringer" at other colleges while applying for aid and scholarships and could only envision more of the same travails at a prestigious institution like Wake Forest. He knew the financial burden on his family would be lighter if he chose a public school; but because of the exceptional impression Wake Forest left on him, the decision remained difficult. Bradley prayed for guidance and, after, felt led to pursue an education at Wake Forest. He would let his faith affirm his choice.

"I was interviewing for a scholarship here," Bradley recalls, "and the woman immediately knew my name. She knew what scholarship I was going for—knew everything about me." The experience gave Bradley the sense he could find a home in the Wake Forest community and served as further affirmation of his decision. "It meant a lot to see people taking the initiative to get to know me. I mean, somebody I haven't even met knows my name, and the assistant principal at my high school didn't even know who I was."

Even though the scholarship process went smoothly, the challenges were just beginning for the Howard family. Following Bradley's decision to study at Wake Forest, but before he received his final financial aid package, Bradley's father was laid off from his job and the chance of attending Wake Forest once again became remote.

If not for a generous planned gift from the late Elton Manning ('37), Bradley's dream may have ended there. A proud Wake Forest alumnus and native of Robersonville, North Carolina, Mr. Manning endowed the Elton Manning Scholarship Fund to help eastern North Carolina students, like Bradley of Lumberton, North Carolina, achieve what they never considered possible.

"Mr. Manning had a great love for his alma mater," says Chip Patterson, director of planned giving. "This was a way he could help the University and, at the same time, help deserving students have the same opportunity he had. Because of a well-thought-out estate plan, he was able to make a larger gift to Wake Forest than he could have made otherwise."

In the family's toughest time, the administration took the opportunity to show Bradley just how much they wanted him to enroll. "We called Wake Forest and said, 'We don't think we're going to be able to afford too much.' They took our circumstances into consideration and just were really great and understanding; they were able to make it work for my family." It was jarring to Bradley, Wake Forest's compassion for a student who had not yet set foot in a classroom. Especially in comparison to the hurdles he faced at other schools, Bradley says, "I was simply floored. After going through the whole admission process and being here for a year now, you come to understand that they really do want you here and want you to experience Wake Forest."

The best of that Wake Forest experience, Bradley declares, is how the administration and faculty are aimed at developing the whole person, not just a part of each student's life. "I've grown in so many different aspects," he says. "Academically, socially, and spiritually—I'm so grateful. And my family is, too."