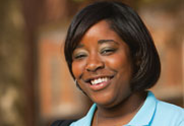 During her application process, freshman Jaymee Williamson ('13*) knew the tuition at Wake Forest would stretch her family beyond their financial limits. "The price tag wasn't feasible for us," she says. "I had worked hard and I hoped for scholarships. I hoped that someone would see my passion for learning and my dedication to helping others, and would be willing to invest in me." Someone was.

"Growing up, Wake Forest University was always a part of the household conversation," Dorn Pittman, Jr. recalls. Dorn went on to earn three degrees from Wake Forest: a bachelor's in business administration ('71), an MBA ('73), and a JD ('77).

Dorn, his father, his brother Ken, and sister Leslie hold eight Wake Forest degrees among them. A niece is currently a sophomore. This family tradition began with the emphasis placed on education by their grandparents and was perpetuated by their parents. As an esteemed alumnus, Dr. Dorn Pittman, Sr. ('43, MD '45) held Wake Forest dear, and was eager to share his experiences with his family.

Dorn recalls, "We wanted to honor our parents and their dedication to education so we turned to Wake Forest University to design a scholarship program." Wake Forest's staff carefully constructed the fund to identify the most financially sound means of reaching a predetermined gift total. For Dorn Pittman, Jr., the best method of endowing the scholarship was to combine an initial gift with a transfer of a life insurance policy. "There was a target amount I wanted to reach," he says. "Of course, the initial funding had immediate benefit, but we wanted to protect against certain economic factors. The insurance policy ensured the ultimate objective would eventually be reached." As the donor of his life insurance policy, Dorn is eligible for an income-tax deduction for the tax basis, as well as future premiums paid.

The Pittman family's commitment to Wake Forest is reflected through the The Dr. Dorn Carl and Betty Mitchell Pittman Scholarship, which supports fellow Alamance County residents who have financial need and exceptional talent. Over the past five years, the Pittman Scholarship has aided several students in joining the Wake Forest community. Most recently, the fund has made Wake Forest possible for freshman Jaymee Williamson ('13) of Elon, North Carolina. When awarded the Pittman Scholarship, "I cried—I was just so ecstatic," Jaymee says. "I know I would not be at Wake Forest otherwise. It's a real blessing for my family and me." She is incredibly grateful for the aid she has received and is proud she will soon become the first in her family to graduate from college.

Mr. Pittman could not be happier that his funds are contributing to Jaymee's education and was especially excited to learn that she would be her family's first college graduate.

The scholarship was created out of the deep respect and devotion the Pittmans have for Wake Forest, and now it may spark a similar loyalty in Jaymee. As Jaymee observes in her first year, "Wake Forest has an atmosphere of opportunity. Whether it's a rewarding career or a full life, there is a common belief among the students that our time here is the beginning of something great."

Dorn and his wife Donna say that they are grateful for the opportunity to help in a small way and hope others will be inspired to do the same.