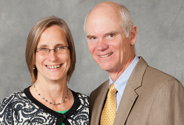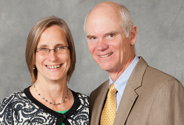 Wake Forest has long felt like home, a place that always stays with you, to Deborah Dixon Lambert ('78, P '13) and Gary Lambert ('77, P '13). Watching their son, Robert ('13) have his own Wake Forest experience reminded Debbie and Gary of their time at Wake Forest when, much like their son, they felt the sense of community, developed lifelong friendships, worked alongside other ambitious and energetic students, and met the love of their life. They were thrilled when their son recently married his Wake Forest sweetheart, Shannon Langella Lambert ('13) and look forward to continuing to watch Robert and Shannon's life-long Wake Forest journey.
Both Debbie and Gary were accounting majors who headed into the work force and became financial professionals. As a young married couple they established a pattern of giving back. "We got into the habit of giving shortly after graduation," remarked Debbie. "We gave a little even when we didn't have any money." Their philanthropy since has spanned nearly every area of the University, including restricted gifts, unrestricted gifts, and two endowments - one for faculty and one for students.
Inspired by the work of the accountancy professors Thomas Taylor and Jack Wilkerson, the Deborah and Gary Lambert Family Accounting Faculty Fund encourages faculty to supplement opportunities for creativity and innovation that may extend outside the routine classroom experience. "The faculty fund honors not only the quality of the education we received at Wake Forest but how the faculty served as tremendous role models and lifelong mentors," Debbie stated. They also endowed the Deborah and Gary Lambert Family Athletic Scholarship. It is designed to provide students with scholarship support in athletics, combining the Lamberts' desire to make sure Wake Forest remains accessible to all while at the same time recognizing their appreciation for the contribution ACC athletics makes to the Wake Forest experience.
Throughout their years of association with Wake Forest, the Lamberts have been consistent donors. "We have been steady," Gary explained, "but we have periodically raised the bar on our giving." The Lamberts have included Wake Forest in their estate plans, continuing their reliable contribution to this community. "It came naturally," stated Debbie. "You hope you can have an impact while you're here, but this is a way to leave a lasting impact on future leaders."
"Leaving a legacy gift was a way to make a contribution that we could not prudently give right now but that we can leave when we're gone," Gary reiterated. "It was a way to give back that allowed us to do even more than we are right now."
The Lamberts have not only invested money in Wake Forest, they have given of their time and energy. "We have a passion for Wake Forest; we believe in Wake Forest," Debbie commented. "Our involvement with the University is a very fun and satisfying outlet. We have the opportunity to meet people and form friendships. It all comes back to believing in the mission of Wake Forest and wanting others to have that same experience."
Debbie, a partner at the CPA firm Johnson Lambert LLP and member of several corporate boards, and Gary, who held various financial positions prior to his retirement, serve as co-chairs of the Samuel Wait Legacy Society. The Samuel Wait Legacy Society is the giving society celebrating those who contribute to the University through their estate plans. Debbie has served multiple terms on the Wake Forest Board of Trustees, where she has chaired several different committees. Debbie previously served as chair of the Calloway School Board of Visitors. Gary served as President of the Alumni Association, as chair of the Wake Forest College Fund, as a member of the Calloway School Board of Visitors, and as a member of the Deacon Club Board of Directors. Both Debbie and Gary have served as co-chairs for their class reunions.
"Wake Forest is our extended family," Gary commented. "Each year, the specialness of Wake Forest has deepened. We didn't know how good the experience was when we were there."
The Lamberts have faithfully contributed to the well-being of the institution through their gifts, enthusiasm, and example. Their steadfast support and gracious generosity does not just make a difference but leaves behind resources to help the future generations of this extended family.