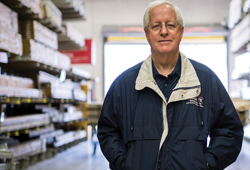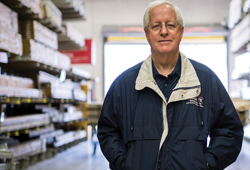 In both his working life and his retirement life, Vaughn Hayes has had plenty of tough decisions to make. What's the best way to enhance customer service at Lowe's more than 1,700 stores in 45 states? What's the best way to divide his time in various charitable endeavors?

But two of his most important calls required no deliberation: attending Wake Forest's weekend MBA program in the 1970s, and expressing his gratitude for his education in the form of a recent $100,000 charitable gift annuity that has created the Vaughn and Frances Hayes Scholarship Fund.

"No way I would have survived—much less succeeded or advanced—at Lowe's for 38 years without it," he said, referring to the degree that transformed his career and changed his life.

A charitable gift annuity is a donation to Wake Forest in which the donor receives a fixed annual dollar amount for life. The principal remaining at the time of death benefits any university program of the donor's choosing.

Hayes was teaching high school history when he made the acquaintance of Pete Kulynych, a founding director of Lowe's and a distinguished Wake Forest benefactor and Life Trustee whose name now adorns the auditorium at the Porter B. Byrum Welcome Center. While Kulynych's daughter thought Hayes was a terrific teacher, her father had another idea.

"When are you going to come to work for me?" he asked Hayes.

After two years of waffling, Hayes accepted. And a few years after that, Kulynych saw greater potential in his apprentice.

"He made me an offer I couldn't refuse," Hayes recalled. "He said, 'If you go to the Wake Forest MBA program, we'll pay for it.'"

Shortly after graduating, Hayes got a substantial pay raise and promotion to executive teams involved in vital corporate decisions. He rose along with the company, which grew from 75 stores—all in the home region—to more than 1,700 nationwide.

It didn't take long for Hayes to realize his business education at Wake Forest had a lot to do with his professional success.

"The Wake Forest MBA program gave me two things," he said. "It gave me a tool set. And more important than that, it gave me a sense of confidence. In my first four or five years at Lowe's, there were people who maybe spoke faster or more confidently than I did. I suspected some of what they were saying was nonsense, but I didn't have the confidence to question it. Wake Forest gave me the confidence and the tool set at least to ask them a question or two."

Hayes retired as a senior vice president in 2010 and set out on his post-work life of various community-service projects. He was inspired by his father, Richard R. Hayes, and by Kulynych.

The manifestation of his hard-wired instinct is a gift intended to fund scholarship opportunities for mid-career professionals. The University's part-time MBA program is ranked 28th in the country by the most recent U.S. News & World Report survey and is on the rise with the recent construction of two facilities: one in uptown Charlotte and Farrell Hall, the brand new 130,000-square-foot structure on the Reynolda campus.

"The Wake Forest MBA program was a neophyte," Hayes said. "I've watched it move from being an unaccredited program to where it is today. I hope it continues to improve in quality, and I hope it gives people an opportunity like Pete gave to me."