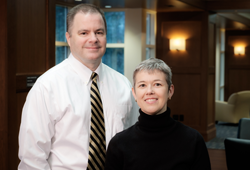 Shana Hurt ('95, JD '99) was still in law school-and her seventh year at Wake Forest-when the real world called. When she didn't have to leave town to experience it, she knew her formal education was complete and thoroughly meaningful.
Clinic work, which places students with actual clients in a variety of circumstances, gave Shana the confidence to start her career, and she hasn't forgotten.
"Clinic work was the culmination of two and a half years of law school," Shana says. "It brought all facets of it together for me. It became a conduit to knowing what being a lawyer was going to mean. It was no longer just theory or reading case law. There were real people with real problems."
That experience led Shana and her husband, Adam (MAED '99), to make gifts to help fund the Law School's outreach efforts through its clinics, which have grown impressively in recent years.
Shana, a senior vice president at Wells Fargo, and Adam, a child custody mediator in Winston-Salem, believe in the Law School's work with people of all ages and backgrounds. If Shana were in school today-a thought that gives her pause-she might work with the Elder Law Clinic.
"Now our population is growing grayer and so fast," she says. "There is a recognition that a lot of our older citizens-and not just those who we classify as 'elderly'-are often under-informed about the law and often lacking in the means to accomplish what they need by hiring an attorney."
"We understand the people who are attracted to Wake Forest," Shana says. "We believe these are people of ideals, morals and character, and that these are important characteristics that should be fostered both now and long after we are gone."