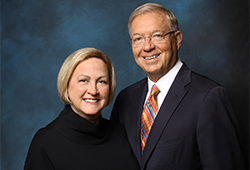 As Carole and I have reflected on life's path, we recognize that but for family, friends, educational experiences and career opportunities our lives would have been dramatically different. We are fortunate and grateful for the support and positive impact that many individuals and institutions have had on us.
Wake Forest University School of Law is one of the profound experiences that changed the trajectory of our lives. We made lifelong friends. We enjoyed the ups and downs of the law school experience with those friends and caring, supportive faculty. The law school prepared me to seize whatever professional opportunity might come my way. Carole and I are the fortunate beneficiaries of the experiences, resources and people that are uniquely Wake Forest. But for the enabling experiences of Wake Forest, our lives would have been dramatically different.
Recognizing that, we wanted to say thank you to the law school. Therefore, utilizing the vehicle of planned giving was one way we could express our meaningful appreciation for that which we have received. More importantly, our gift will support the continued efforts of the law school to
infuse the spirit of Pro Humanitate in future generations of students who will then provide their uniquely honed Wake Forest leadership in their chosen field of endeavor.
We hope you will consider your own "but for" experience and choose to invest in the same for future generations through a planned gift.
Go Deacs!