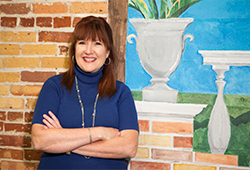 Whether with Wake Forest, the Make-A-Wish Foundation, the Humane Society or a Tampa soup kitchen, I have long appreciated the meaning of planned giving to nonprofits. I know it's helpful to know there is money coming in at some point.
That experience determined the mechanism for my philanthropy to Wake Forest. As far as the specifics of my commitment were concerned, I turned back to my days as a student.
Majoring in math was uncommon for women in the early 1980s, when society was gripped even more than it is today with the inaccurate notion that women weren't wired for such things. I was going to buck the trend. When I was growing up, I added numbers in my head. Just for fun.
I turned my Wake Forest experience into a career in which I now run my own boutique investment bank.
Wake Forest really set me up for life. I feel it's incumbent on me to give back to the university that got me and my career started. Math is a big part of that. I would like to support people majoring in math.
The result will be a scholarship fund intended primarily to reward the academic interest and achievement of math majors. The scholarship was inspired by the desire to attract more women to the field of mathematics.