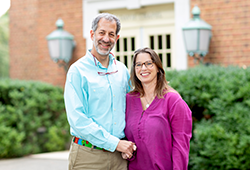 "Wake Div has impacted us both personally and professionally, equipping us to integrate spirituality and medicine in holistic ways that benefit both patients and medical practitioners," says Roxanne Marterre
(MDiv '17, P '19).
Roxanne is a retired United Methodist minister who uses contemplative practices and mystical thought to guide surgeons and medical students in mitigating burnout and to nurture deeper connection in cross-cultural encounters with patients. Her spouse, Buddy Marterre (MDiv '17, P '05), is a surgeon in palliative care, where he integrates spirituality into his medical practice, particularly during end-of-life cases.
Roxanne explains, "Our cherished experience at Wake Div permeates all of our work, forming the beautiful and necessary scaffolding for our ministries to evolve and help others find deeper meaning in very difficult life and death situations.
"Wake Div is special to us for many reasons. We met, fell in love, and married there. This is why, following our wedding in Davis Chapel on campus, we knew immediately that we wanted to support the School of Divinity. It was important to us to give others who desire to integrate spirituality and medicine a financial boost via scholarship opportunities. Making Wake Div a beneficiary of our IRA was one small way that we can both give back to our amazing theological home, and give forward into the future of healing."