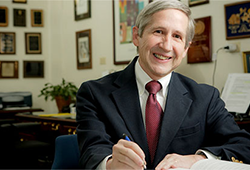 Thanks in part to the many good things I received from Wake Forest as a student, I knew years ago that I wanted to give back and make a planned giving commitment.
When people make a planned gift commitment, they have the opportunity - within the boundaries of law and University policy - to decide how the funds will ultimately be used. The decision to contribute a portion of an estate to Wake Forest therefore creates a chance for reflection as well as appreciation.
With that in mind, I decided to do something new.
As a mental health professional, I wanted to support the University with endowed programming - including guest speakers and workshops - focused on emotional wellbeing. My hope is that invited speakers will share both professional knowledge and personal experiences with those who attend. My wish is that their presentations will inspire attendees to consider mental health issues in their own lives and in the lives of others and to make a difference in the communities in which they reside.
I am gratified that Wake Forest has created the infrastructure and the culture that make such events possible. The Thrive initiative, an eight-pronged approach to wellbeing that began in 2014, has already made a tremendous impact on our campus.
In a place as intimate yet comprehensive as Wake Forest, there is virtually no limit to the good that planned giving can do. I encourage anyone as fortunate as I have been to consider this spectrum of opportunity.