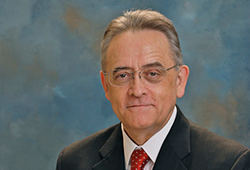 As the chief administrator of the San Diego Housing Commission, I am constantly called to plan for the future. I understand, therefore, why people might presume that my decision to make a planned gift to Wake Forest is rooted in that forward-looking mindset.
In truth, however, that is not the case. I would have committed to a planned gift regardless of my career path, and I would have made that decision because Wake Forest has been central to my life.
When I was 16, I sustained a broken neck in a car crash. Doctors at what is now Wake Forest University Baptist Medical Center originally feared I wouldn't walk again. But they didn't give up. And they ultimately put me back together.
After that, how could I go anywhere else to college?
The comprehensive, robust liberal arts education that I received at Wake Forest put me on a path for career success. How could I forget that, either?
So all of that has driven me to give back in my lifetime. Planned giving is a vehicle to extend my gratitude.
I have directed my gift to something dear to me and to my family, the Magnolia Scholars program. My father had a 10th-grade education. I grew up as one of 27 cousins in Elkin, North Carolina, and I was the first of them to graduate from college. Today, my job obligates me to look out for low-income kids. The convergence of these factors - past and present - helped me decide that Magnolia Scholars, first-generation students who would not attend Wake Forest without considerable scholarship support, would be a perfect choice for my future giving.
Every Wake Forester's journey is unique, but I encourage everyone to consider planned giving. I feel the benefits of my commitment every day, and I know the impact will last even longer than my association with the University has.